Cleaner Aero Dynamic (CAD)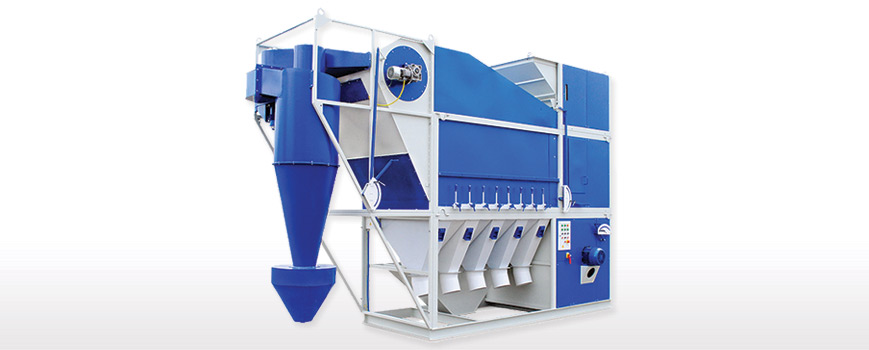 About The Cleaner Aero Dynamic Fractionating Aspirator
CAD cleaners are a range newly patented fractionating aspirators, giving an exceptional separation of product by air weighing.
CAD cleaners split grain into 5 fractions without the use of sieves.
A CAD cleaner will replace any conventional cleaner! It benefits from low maintenance, quick clean downs, easy set ups, low running costs and is vibration free! In many cases a CAD will eliminate the need for gravity tables, and indented cylinders.
Local test facility available.
The Cleaner Aero Dynamic Fractionating Aspirator is currently being used in the UK for:
Hagberg improvement
Bushell weight improvement
Seed selection for redrilling
Malting barley improvement
Human consumption linseed selection
Pea and bean pre cleaning
Chick pea cleaning
Pre crush oil seed selsction
Scrap metal recycling
Red clover
The CAD Fractionating Aspirator can also:
Grade wood chip
Grade plastic
Sort sugar beet shreds and pulp
Technical Specifications
| Model | 150 | 100 | 50 | 40 | 30 | 20 | 15 | 10-01 | 10 | 7 | 5 | 4 |
| --- | --- | --- | --- | --- | --- | --- | --- | --- | --- | --- | --- | --- |
| Pre-cleaning TPH | 200 | 150 | 70 | 60 | 50 | 40 | 16 | 20 | 14 | 12 | 8 | 6 |
| Cleaning TPH | 150 | 100 | 50 | 40 | 30 | 20 | 15 | 10 | 10 | 7 | 5 | 4 |
| Fine Cleaning TPH | 50 | 40 | 25 | 20 | 15 | 10 | 7 | 5 | 5 | 3.5 | 2.5 | 2 |
| kW | 23 | 23 | 15.5 | 15.5 | 11.5 | 11.5 | 7.8 | 19 | 5.8 | 5.8 | 1.47 | 1.4 |
| Weight, KG | 2985 | 2950 | 1150 | 1075 | 1045 | 1035 | 580 | 1580 | 527 | 250 | 220 | 205 |
| Length mm | 3850 | 3850 | 2850 | 2850 | 2850 | 2850 | 2450 | 2850 | 2450 | 2450 | 1610 | 1610 |
| Width mm | 1900 | 1900 | 1650 | 1650 | 1650 | 1650 | 850 | 1630 | 850 | 850 | 630 | 630 |
| Height mm | 3835 | 3835 | 2860 | 2860 | 2860 | 2860 | 1455 | 3420 | 2455 | 2455 | 1850 | 1850 |
Downloads
Brochure - Cleaner Aero Dynamic (CAD) Fractionating Aspirator