Grain Augers
Kongskilde > Mechanical Grain Conveying > Grain Augers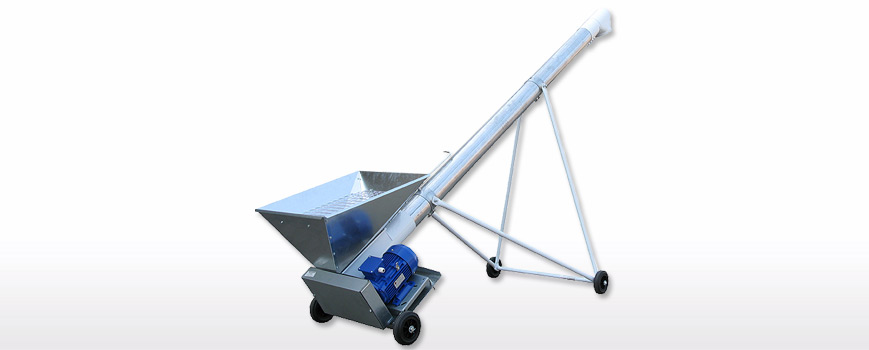 About Kongskilde Grain Augers
These augers are economical solutions for grain conveying and can be fitted at any angle from horizontal to vertical. Conveying capacity up to 90 t/h. The smaller sizes are highly mobile.
Kongskilde offers
DGA 102, DGA 127 and DGA 152 with belt drive and motor mounted at auger outlet.
DGC 102, DGC 127 and DGC 152 with inlet hopper, wheeled stand and motor mounted at outlet. Max overall length 6 m.
DGS 205 and DGS 254 with galvanized surfaces.
DGS 205 grain cannon with belt drive. Motor and belt drive are mounted at the auger's inlet (easy to fit wheeled stand).
Range of connectors and hoppers for optimum usage.
Capacity control on the inlet.
Technical Information
DGA/DGC 102
DGA/DGC 127
DGA/DGC 152
DGS 205
DGS 254
Capacity t/hour
700 kg/m3
15% H2O
Horizontal
16
26
40
60
90
45° inclination
10
17
28
42
72
Vertical
5 / -
8 / -
14 / -
21
46
Conveying length
(foot with hopper), m
12.5 / 6
12.5 / 6
12.5 / 6
11.8
11.7
Ø auger pipe
ext./thickness, mm
102
1.5
127
2
152
2
205
3
254
3
Diameter of
auger screw, mm
85
108
133
180
230
Connection on outlets
OK 160
OK 160
OK 200
OK 200
Q24 / FK250
Revolutions on screw
shaft rpm
1000
800
700
450/400
400
Transmission
Belt drive
Belt drive
Belt drive
Belt drive / gear
Gear
Motor power, kW
1.5 - 4.0
2.2 - 4.0
3.0 - 5.5
3.0 - 7.5
3.0 - 11.0
Downloads