Rotary Valves and Injectors
Kongskilde > Pneumatic Grain Conveying > Rotary Valves and Injectors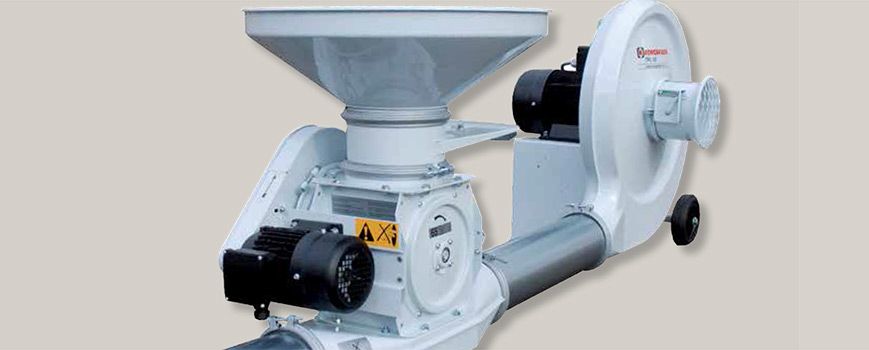 About Kongskilde Rotary Valves and Injectors
A rotary valve or an injector delivers the grain into the pipeline in pressure conveying systems.
Injectors are an ideal, simple solution for small capacities.
A rotary intake unit is used for larger capacities. This is driven by a small motor that increases the capacity significantly in comparison with an injector.
Benefits
Rubber slats provide an excellent seal against air loss.
The rubber slats can bend to minimise clogging.
The combination of gear and belt drive protects the intake unit against clogging.
Belt tension is easily adjusted.
Standard inlet hoppers and shutters to regulate inlet volumes.
CAD feeder units are used for pressure conveying, while CAE models are used for pure suction conveying.
Blower & Injector Models
| | | | | |
| --- | --- | --- | --- | --- |
| Blower | TRL 20 | TRL 40 | TRL 55 | TRL 75 |
| Injector | TF 20 | TF 40 | TF 55 | TF 75 |
Technical Specifications
| | Capacity t/hour 700 kg/m3 | Motor kW/hp | Power supply 50 Hz | Power consumption A | Cell wheel/motor rpm | Weight kg | Connection top/bottom | Max pressure mm VS/Pa | Connected to control cabinet as standard |
| --- | --- | --- | --- | --- | --- | --- | --- | --- | --- |
| CAD 20 | 16 | 0.55/0.75 | 3x 400V | 1.33 | 65/1400 | 37 | OK200/OK160 | 2000/19600 | TRL 150-200 |
| CAD 30 | 26.5 | 1.5/2.0 | 3x 400V | 2.3 | 65/1400 | 61 | OK200/OK160 | 4000/39200 | TRL 300 |
| CAD 40 | 53 | 1.5/2.0 | 3x 400V | 3.1 | 65/1400 | 97 | OK250/OK160 | 5000/49100 | TRL 500 |
| CAE 20 | 16 | 0.55/0.75 | 3x 400V | 1.33 | 65/1400 | 32 | OK200/(OK200)* | 2000/19600 | TRL 150-200 |
| CAE 40 | 53 | 1.5/2.0 | 3x 400V | 3.1 | 65/1400 | 89 | OK200/(OK200)* | 5000/49100 | TRL 500 |
*Optional accessory
Downloads