BCB Belt Conveyors
Kongskilde > Mechanical Grain Conveying > Conveyors > BCB Belt Conveyors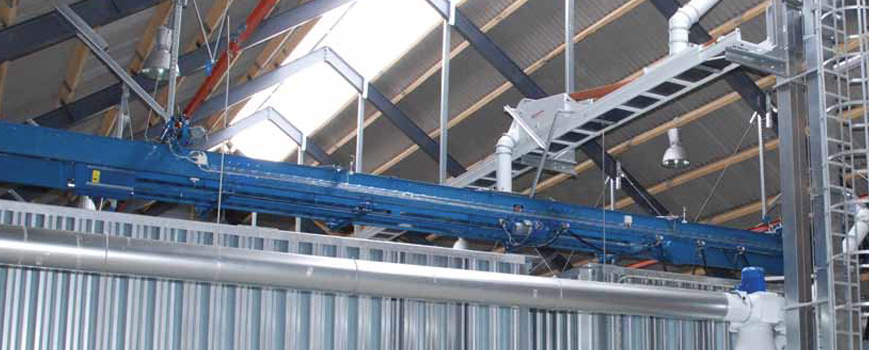 About Kongskilde BCB Belt Conveyors
BCB belt conveyors are used for horizontal or inclined conveying of grain up to 15°. The capacity is up to 80 t/h over 100 m. Capacity is reduced at inclined conveying.
Benefits
Modular system that provides flexible solutions based on standard components.
Low energy consumption.
Self-cleaning conveying.
Belt conveyor for 60 and 80 t/hour is galvanized for outdoor installation.
One-way or two-way conveying.
Infinite discharge points.
Accessories
Discharge unit, that can be moved lengthwise along the conveyor belt, for discharge on both sides of the belt.
Inlet that can be run on the conveyor.
Cover and dust guard below the belt.
Speed sensor for control of belt speed.
Multiple intakes on the same belt.
Scraper to clean the belt.
Technical Information
BCB 45
BCB 60
BCB 80
Capacity 700 kg/m3 15% H2O, t/h
45
60
80
Belt speed, m/sec
2.2
2.36
2.36
Belt dimensions t x w, mm
3.2 x 300
5.5 x 400
6 x 500
Material thickness extenders, mm
1.5
2
2
Standard extensions, m
2.0 - 1.0 - 0.33
2.0 - 1.0 - 0.5
Belt support
Steel trough
Low friction rails
Rollers
Dimension drive rollers Ø, mm
175
300
300
Maximum length, m
50
80
100
Transmission
Belt drive gear
Gear motor
Gear Motor
Motor power, kW
2.2 - 4.0
2.2 - 2x4.0
2.5 - 2x3.0
Downloads