KCA Chain Conveyors
Kongskilde > Mechanical Grain Conveying > Conveyors > KCA Chain Conveyors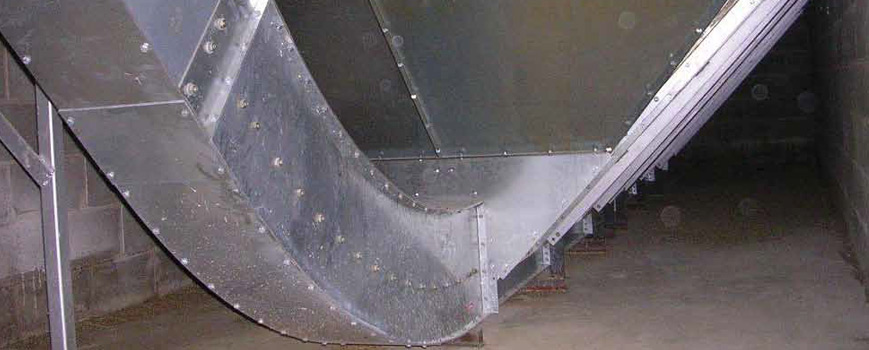 About Kongskilde KCA Chain Conveyors
KCA chain conveyors are used for conveying of grain when inclined conveying up to 45° is needed. Capacities from 60 to 120t/h.
Our standard range of straight extensions and angle pieces provides easy solutions to both horizontal and inclined conveying.
Benefits
Wide range of standard extension modules.
Galvanized external conveyor surfaces.
Suitable for outdoor installation.
Bevel gear motor means high efficiency and easy installation.
Low noise levels thanks to PEHD carriers on the conveyor chain.
Overall length up to 50 m, depending on layout and capacity.
Extensions with side inlet for installation in grain pit.
Accessories
30° and 45° angle sections from horizontal to inclined and inclined to horizontal conveying.
Drive unit with chain tensioner.
Range of standard inlets and outlets.
Manual or motorised intermediate outlet.
Transmission for bucket elevator intakes.
Rain cover for bevel gear motor.
Blockage cut-out switch at drive and return end.
Technical Information
KCA 60
KCA 80
KCA 120
Capacity 700 kg/m3 15% H2O, t/h
60
80
120
Material thickness extensions, mm
2/3
2/3
2/3
Chain speed, m/sec
0.82
0.77
0.6
Carrier spacing
200
200
250
Extension cross-section w x h
230 x 410
330 x 410
430 x 550
Standard extensions, m
2.97 - 1.27 - 0.67 - 0.37
Drive unit with chain tensioner
+
+
-
Maximum length, m
50
40
48
Motor power, kW
3.0 - 11.0
3.0 - 11.0
4.0 - 15.0
Downloads