KCC Chain Conveyors
Kongskilde > Mechanical Grain Conveying > Conveyors > KCC Chain Conveyors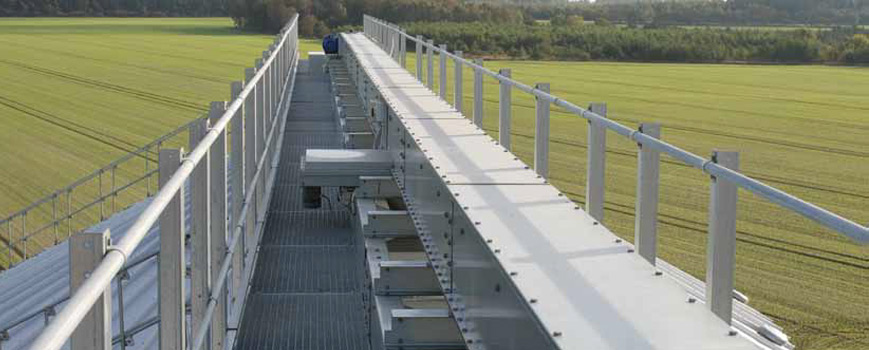 About Kongskilde KCC Chain Conveyors
KCC chain conveyors are used for horizontal conveying of grain and can be built in lengths of up to 50 m. Conveying capacities of up to 120 t/h (750 kg/m3)
Benefits
Quick and easy assembly for different conveying distances using standard modular system of extensions.
All modules are made from galvanized steel.
Suitable for outdoor installation.
The conveyor is supplied with a 10 mm PEHD-reinforced base.
High efficiency bevel gear motor with minimal space requirements.
Overflow flap with switch on drive unit.
Cleaning buckets with carriers every approx. 2m chain.
Extensions with side inlet for installation in grain pit.
Accessories
Intermediate outlet, manual or electric operation.
Inlet with capacity control.
Wide range of inlets to fit different standard pipe diameters.
Capacity control for chain conveyors with side inlets.
Rain cover for bevel gear motor.
Cleaning brush on intermediate outlet to avoid overflow.
Technical Information
KCC 40
KCC 60
KCC 80
KCC 100
KCC 120
Capacity 700 kg/m3 15% H2O, t/h
40
60
80
100
120
Material thickness extensions, mm
2/3
2/3
2/3
2/3
2/3
Chain speed, m/sec
0.6
0.6
0.6
0.6
0.6
Spacing of carriers, mm
200
200
200
250
250
Standard extensions, m
2.97 - 1.27 - 0.67 - 0.37
Length of drive and tensioning section, m
1.0
Cross-section of conveyor w x h, mm
230 x 310
230 x 360
330 x 360
330 x 410
330 x 510
Motor power, kW
1.5 - 5.5
2.2 - 7.5
2.2 - 9.2
3.0 - 11.0
3.0 - 15.0
Downloads