Chain Elevators
Kongskilde > Mechanical Grain Conveying > Elevators > Chain Elevators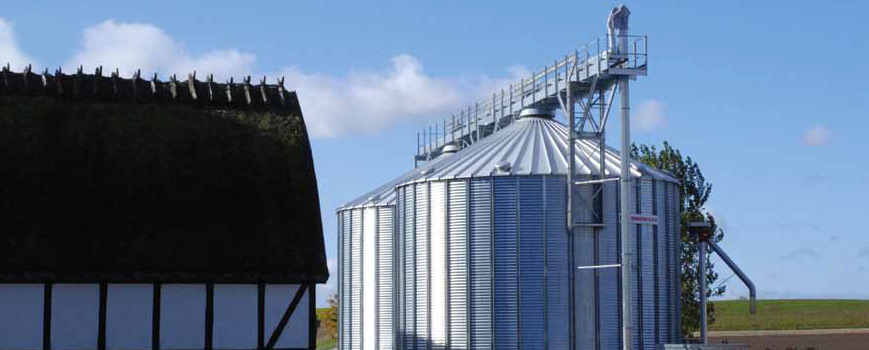 About Kongskilde Chain Elevators
The CFG chain elevator is an excellent solution for conveying capacity requirements of 20-40 t/h. CFG chain elevator can be adjusted for conveying at all inclinations from horizontal to vertical.
Solutions With
Trough inlets.
Side auger connected to elevator boot.
Side auger with motor at elevator boot.
Motor in end of side auger.
Closed elevator base, inlet on downpipe shaft.
90° angle.
45° angle.
Benefits
Flexible modular system which offers many options for conveying solutions.
Single motor for horizontal and vertical conveying.
Galvanised surfaces for outdoor installation.
Gear motor or belt drive.
Rain cover for motor.
Open auger troughs for grain pit. Closed auger troughs for horizontal conveying.
Low inlet height.
Standard range of connection pipes.
Guy wire system permits up to 15 m between supports indoors and 10 m outdoors for horizontal conveying.
Technical Information
CFG 20
CFG 40
Capacity 700 kg/m3 15% H2O, t/h
20
40
Material thickness extensions, mm
1.5
1.5
Elevator shaft dimensions w x d, mm
164 x 278
228 x 278
Chain speed, m/sec
1.6 - 1.75
1.6 - 1.75
Standard extensions, m
2.5 - 2.0 - 1.0 - 0.25 - 0.125
Outlet connection
OK 160
OK 200
Overall length (maximum vertical + horizontal), m
20
20
Motor power, kW
1.5 - 5.5
1.5 - 5.5
Downloads