Aspirator Pre Cleaners
Kongskilde > Grain Cleaning > Aspirator Pre-Cleaners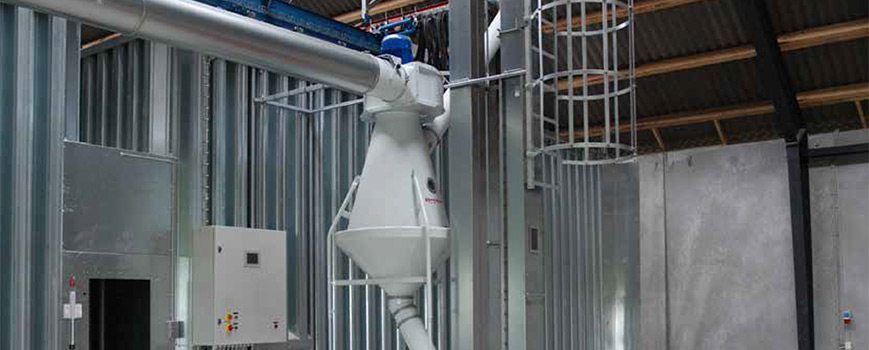 About Kongskilde Aspirator Pre-Cleaners
An aspirator is suitable for removing dust and light impurities from grain.
In an aspirator the grain passes through an upwards moving air stream. The air stream picks up dust and light impurities, whereas gravity allows the grain to fall down into the bottom outlet of the aspirator. The dust and light impurities follow the air stream through the blower and on into a pipeline to the desired location for discharge.
The construction of the pre-cleaner provides many options for integration in a grain plant:
Modular system for large flexibility for build-in solutions.
Easy access for regulation of the cleaning function, the regulation can be installed anywhere in the pipe line.
Installing the cleaner so the grain passes the cleaner both at the intake and outlet provides an optimal solution.
Technical Specifications
Technical Data
KF 12
KF 20
KF 40
KF 60
Max. capacity (barley) t/h
12
20
40
60
Motor size blower motor kW (HP)
0.75 (1.0)
1.5 (2.0)
5.5 (7.5)
7.5 (10)
Motor RPM
2,900
Motor type
Flange motor Norm motor B5
Weight (incl. motor) kg
75
105
250
260
Conveying pipes for waste
OK 160
OK 200
FK 300
2x FK 300
Max. recommended conveying length for waste (m)
25
15
15
15
Downloads
Brochure - Kongskilde KF 12, KF 20, KF 40 & KF 60 Aspirators
Brochure - Kongskilde KFP 80 & KPF 120 Aspirators